Sustainability Initiatives
Respect for Human Rights
Based on the International Code of Conduct on Human Rights, the Board of Directors has established the Kanto Denka Kogyo Group Human Rights Policy.
The Group will promote actions in line with the principles of this policy and respect for human rights.
Kanto Denka Kogyo Group Human Rights Policy

Kanto Denka Kogyo Group supports and respects the International Labor Organization (ILO) Declaration on Fundamental Principles and Rights at Work, the United Nations Guiding Principles on Business and Human Rights, the United Nations Global Compact, and other international codes of conduct on human rights, and is committed to fulfilling its corporate social responsibilities and acting as a good member of society to contribute to the realization of a sustainable society. With regard to this policy, the Group will also promote to our business partners and customers actions in line with the principles of this policy and respect for human rights.

1.

Respect for human rights

Kanto Denka Kogyo Group respects the basic human rights of all people. We do not discriminate on the basis of age, gender, nationality, race, disability, religion, beliefs, marital status, health status, gender identity, sexual orientation, economic background, political views, etc. We also prohibit harassment that unjustly harms the dignity of individuals, including sexual harassment, power harassment, and maternity harassment.

2.

Workers' rights

Kanto Denka Kogyo Group does not tolerate child labor or any form of forced labor. It also recognizes the right to form a union and to bargain collectively.

3.

Prevention of human rights infringement

Kanto Denka Kogyo Group strives to understand the negative impact of its corporate activities in order to fulfill its responsibility to respect human rights, and to prevent and reduce it.

4.

Education

Kanto Denka Kogyo Group is committed to providing appropriate education to ensure the correct understanding and promotion of human rights.

5.

Taking action in response to human rights infringement

Kanto Denka Kogyo Group will take action to remedy and correct any human rights violations that are identified in our corporate activities.

(End)
Ensuring Diversity
In a rapidly changing business environment, we believe that the key to future corporate growth lies in securing, training, and promoting a diverse range of human resources. Currently, we are working to hire, train and promote a diverse workforce, including women, foreigners, mid-career workers and people with disabilities.
1)Women
The percentage of women in management positions is currently only 2%. This is because main career track hiring used to be biased toward men. We are currently focusing on hiring women, and the percentage of women in main career track hiring from 2016 to 2021 has been approximately 25%.
We will continue to make efforts to recruit women main career track employees and train them for management positions with the following goals.
Target
(1) Double the current ratio (2%) of women in management positions by 2030.
(2) To achieve the above, aim for a ratio of women hired in main career track positions of 30% or more.
2)Foreigners and mid-career hires
We have been hiring and promoting foreigners regardless of their nationality. We are also actively hiring mid-career hires.
3)People with disabilities
In addition to promoting barrier-free facilities at our plants, such as the installation of multipurpose toilets, we have also set up an operational support office at the head office to provide a comfortable working environment for people with disabilities and promote their employment.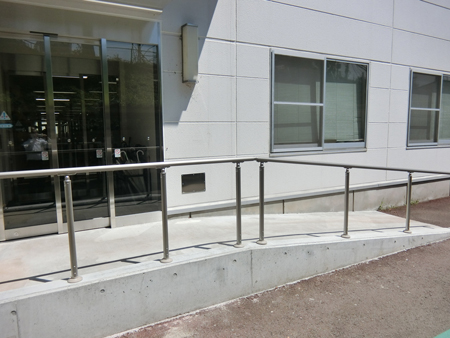 4)Environmental improvement, etc.
In order to create a work environment that ensures diversity, we are working on the following.
(1) Expansion of education and training systems
(2) Improving the work-life balance by promoting the use of paid leave
(3) Promotion of male employees to take childcare leave
(4) Reduction of overtime work
Sustainability Initiatives