RESEARCH & DEVELOPMENT
Research and Development Policies
Developing aimed at being a "Creative Development-Driven Company."
We pursue developing aimed at being a "Creative Development-Driven Company." Based on its core technologies?electrolysis and fluorination?we have developed and established original technologies regarding chlorination, micronization, high purification, organic/inorganic synthesis, coating, polymerization and more.
By combining its specialized technologies and manufacturing expertise that have been accumulated to date, we aim to be a "Creative Development-Driven Company" that can offer new products around its original technologies in a speedy manner to contribute to various industry fields, such as environment and energy, electronic and information communications, life science and healthcare, and recycling.
Click here for details on electrolysis and fluorination technologies.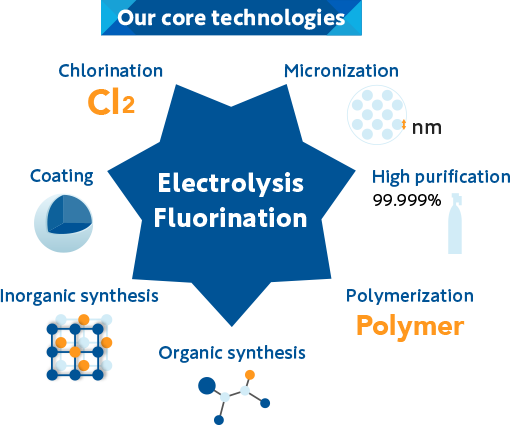 Content of Research-and-Development Activities
Development of specialty gases
Specialty gases used in the industrial markets for manufacturing semiconductors and liquid crystal displays (LCDs) include nitrogen trifluoride, carbon tetrafluoride, hexafluorobutadiene and tungsten hexafluoride. These gases are chiefly used as etching gases for etching circuit patterns on the surface of semiconductor substrates or as cleaning gases for cleaning the inner surfaces of semiconductor and LCD manufacturing equipment. Our R&D efforts are being made with attention to a vast range of industrial needs, from the diversification and advancement of materials and processes to address the increasing miniaturization of semiconductor devices, to the development of alternative and next-generation gases to address tightening environmental regulations on a global basis.
Development of battery materials
Active R&D efforts are being made to increase the capacity, lengthen the life and increase the safety of lithium-ion rechargeable batteries (LiBs), with an eye on the significant growth in demand expected for car-mounted large batteries. By utilizing our fluorination technologies, we have been promoting the development of additives for high-performance electrolyte and new battery materials, while exploring the possibilities for next-generation battery materials.
Development of ferrochemicals
For increasingly advanced and multifunctional reprographic equipment, such as copiers and printers, the development of carriers for developers is being tackled collaboratively by our manufacturing and marketing departments. Carriers are particulate materials used mainly for copiers that develop electrostatic charge images and assume the role of carrying toner within a copier. The carriers we produce are 30?100 μm; use iron, ferrite or magnetite as the core material; and are coated with various resins.
Development of new materials
We have developed inorganic nanoparticles by using our original technologies of particle synthesis. Now we are proceeding with development of organic-inorganic hybrid materials by our nanoparticles and resins or other materials.
Click here for details