RESEARCH & DEVELOPMENT
Electrolysis and Fluorination Technologies
<Kanto Denka Kogyo's Synthesis of Fluorine Compounds>
Electrolytic technologies
Since 1970, when we achieved the industrial application of hydrofluoric acid electrolysis technology for the first time in Japan, its experience and achievements spanning more than half a century have given it the world's top-class capability of manufacturing fluorine gases. Fluorine gases are obtained through the electrolysis of anhydrous hydrofluoric acid. We are accumulating and developing this hydrofluoric acid electrolysis technology for efficiently producing large amounts of high-purity fluorine as our core technology.
Electrolytic fluorination technology
We have cultivated original technologies to synthesize various fluorine compounds in an electrolytic solution mainly comprising anhydrous hydrofluoric acid. Through the method of electrolytic fluorination, which is a unique and clean process, we are promoting the development of various fluorine compounds.
Fluorination technology
We engage in the development of useful fluorine-containing compounds by using fluorine and fluorochemical specialty gases as high-quality fluorinating agents.
(Fig. 4: Applying various specialty gases for a fluorination reaction)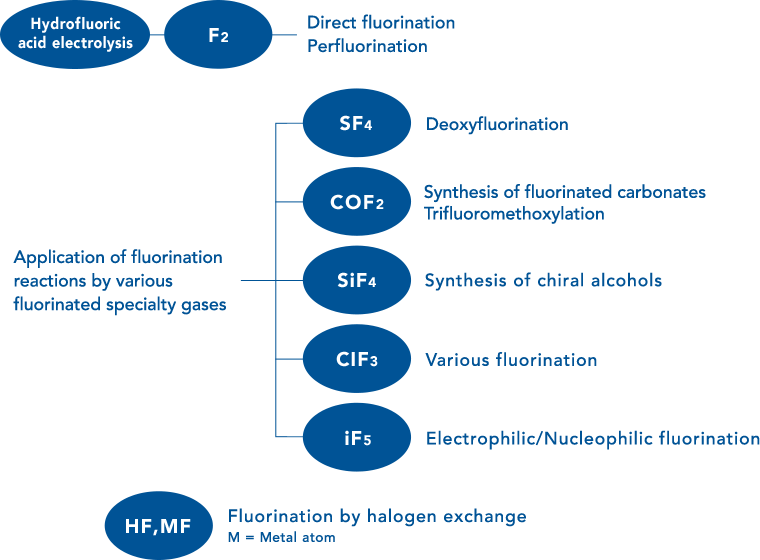 Fluorination via fluorine (F
2

) gas

Although fluorine gas is a highly reactive and dangerous fluorinating agent, we can synthesize fluorinated organic compounds by using directly fluorination method to handle the fluorine gas in a safety whether at a laboratory or an actual production site.
Fluorination via specialty gas, etc.
By using various fluorochemical specialty gases as fluorinating agents, we can conduct selective fluorination reactions whether at a laboratory or an actual production site. A variety of gases are available for fluorination including the following:
SF

4

(Sulfur tetrafluoride)
COF

2

(Carbonyl fluoride)
SiF

4

(Silicon tetrafluoride)
ClF

3

(Chlorine trifluoride)
IF

5

(Iodine pentafluoride)
For details, please feel free to contact us. We can meet the demand for production of any size from small to bulk production scale.
Examples of deoxyfluorination via SF
4
Applicable for many substrates.
Reaction with alcohol

Reaction with carboxylic acid

Reaction with ketone
Introduction of trifluoromethoxy group via COF
2
We can synthesize trifluoromethoxy group by using COF2 for 1-pot reaction.


Synthesis of fluorine-containing carbonates via COF
2
Synthesis from an intermediate generated in the reaction of COF2 with ketone is possible.

Examples of compounds: Various fluorinated chain and cyclic carbonates as shown below can be synthesized.

Synthesis of chiral diols via SiF
4
Stereoselective fluorination of reactants is possible.
Applications: Pharmaceutical and agrochemical intermediates, electronic materials, etc.
JP-Patent No. 4448346


Examples of compounds: Chain and cyclic fluorinated alcohol as follows is possible.


Fine chemicals
By utilizing the fluorination technology we excel at, we offer a range of halogen compounds, centering on fluorine-containing organic compounds. We also engage in the development of fine chemicals with characteristic structures using our long-accumulated original technologies of organic synthesis.
For any compounds not listed below, please feel free to contact us.
Examples of applications
Pharmaceutical and agrochemical intermediates
Battery materials
Electronic materials
Liquid crystal materials
Lineup
No.
Name of Compound
Structural Formula
Molecular
Weight
1
2-Fluoroethylamine Hydrichloride
99.54
2
Ethyl bromodifluoroacetate
202.98
3
Methyl 3,3,3-trifluoropropionate
142.08
4
Tris(pentafluorophenyl)borane
511.98