RESEARCH & DEVELOPMENT
Inorganic Nanoparticles
Nanoparticles have attracted attention in an extensive range of applications, such as electronic and optical materials because of their specific properties in comparison with those of bulk materials. We have developed various inorganic nanoparticles made from a wide array of elemental species. Our inorganic nanoparticles are available in the form of powder, dispersion liquid (nanoparticles dispersed in solvents), or nanocomposite (dispersed in resins).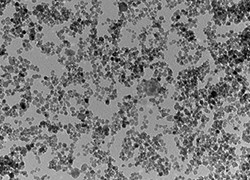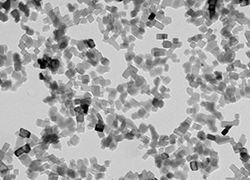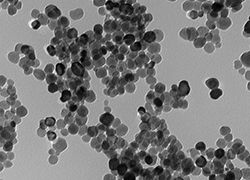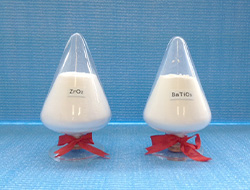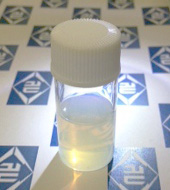 Features
Sharp particle size distribution
High uniformity of the shape
High crystallinity
Good dispersibility
Applications
High refractive index materials (zirconium oxide, barium titanate)
Heat dissipation materials (magnesium oxide)
High dielectric constant materials (barium titanate)
Lineup
No.
Particle
Chemical formula
Particle size
(nm)
Specific surface area
(m

2

/g)
Particle shape
1
Zirconium oxide
ZrO

2

10
150
Spherical
2
Magnesium oxide
MgO
35
55
Cubic
3
Barium titanate
BaTiO

3

25
45
Spherical
※The values of the specific surface area are representative values.