Sustainability Initiatives
Corporate Governance
Basic Stance on Corporate Governance
Our management philosophy is "Through the quest for constant corporate growth and acquisition of optimum profits, Kanto Denka is working with all its shareholders, users and employees to create a successful company and prosperous society. To achieve this end, we are endeavoring to meet the requirements of our users with our unique technologies and customer-oriented services, and to build a trusted company based on our motto, 'sincerity, creativity, prompt response and harmony with nature.'" In other words, our corporate goal is to "contribute to the creation of a prosperous society while enhancing corporate value," and to achieve this goal, we are working to build good relationships with our stakeholders, including shareholders, local communities, users, and employees.
Outline of the Corporate Governance System
Details of the Company's Organizations
The Company holds a regular meeting of the Board of Directors once a month to make decisions on important matters and supervise the execution of duties by Directors. In order to further strengthen the functions of the Board of Directors and improve management efficiency, the Management Committee, which is attended by the Directors and Executive Officers who execute the Company's business, meets once a month to flexibly make decisions on basic and important matters related to business execution.
The Compliance and Risk Management Committee, chaired by the President and with the participation of outside attorneys, has been established as an organization to oversee overall compliance. Each Group company has appointed a compliance promotion officer to ensure collaboration. In addition, the Kanto Denka Kogyo Group Compliance Manual has been formulated as a code of conduct for officers and employees, and all officers and employees are thoroughly familiarized with it, and a consultation and reporting system for compliance has been established. The Committee also manages antitrust laws and strategic materials.
As for internal audits, the RC Promotion Council, chaired by the President, conducts audits in the areas of safety and health, environment, product safety, and logistics, while the Internal Audit Office conducts internal audits of overall operations.
Status of Auditors and Audits by Auditors
The Company has adopted a company with auditors system consisting of four Auditors, two of whom are Outside Auditors.
The Board of Auditors consists of four members: two full-time Auditors (one of whom has expertise in finance and accounting) and two part-time Auditors, and regularly reports and discusses important matters related to auditing. In order to ensure the effectiveness of audits, full-time Corporate Auditors attend the Management Committee and other important meetings to ensure a system for auditing the execution of duties by Directors.
In addition, the Auditors receive explanations on the contents of accounting audits from the Internal Audit Office and other internal audit departments as well as Ernst & Young ShinNihon LLC, the Company's accounting auditor, and cooperate with them by exchanging information.
Status of Accounting Audits
The Company has entered into an audit contract with Ernst & Young ShinNihon LLC in accordance with the Companies Act and the Financial Instruments and Exchange Act.
Internal Reporting System
Officers and employees are obliged to report any violations of compliance within the Company. The parties reported to are the General Manager of the Legal & General Affairs Department, the General Manager of the Human Resources Department, the General Manager of Administration Department of both plants, the full-time Auditors, and the legal counsel. The Company will keep the details of reports confidential and will not treat whistleblowers disadvantageously. The same applies when a report is received from an external party such as a business partner.
Corporate Governance System Diagram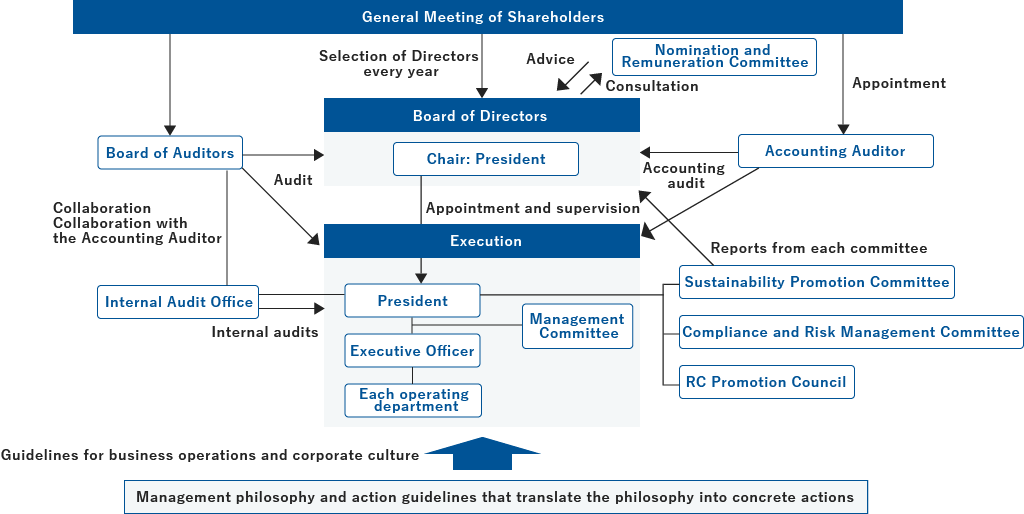 Implementation Status of Corporate Governance Measures
Policy and Procedure for Appointing and Dismissing Upper Management and Designating Candidates for Directors and Auditors by the Board of Directors
The Company elects Directors and Auditors from a diverse range of individuals who possess outstanding character, insight, and a wealth of experience. In terms of selection procedures, the Nomination and Remuneration Committee, of which the majority of members are independent Outside Directors, is consulted with on the selection of candidates for Directors, and then the Board of Directors will make a decision. Candidates for Auditors will be decided by the Board of Directors after obtaining the consent of the Board of Auditors for the appointment proposal. In addition, in cases where serious misconduct has occurred and the involvement of such misconduct is recognized, or in cases where the Company is unable to achieve its performance targets over a long period of time, the Company will not reappoint senior management.
Independence Judgment Standards for Independent Outside Directors and the Qualities of Independent Outside Directors
The Company selects candidates for Outside Directors who are Independent Directors in accordance with the independence standards established by the Tokyo Stock Exchange. The three Independent Outside Directors are involved in corporate legal affairs, corporate accounting, and research and development, and play an important role in the decision-making process of the Board of Directors by applying their experience and broad insight to management and expressing their opinions from a professional perspective.
Policy and Procedure for Deciding on Remuneration for Upper Management and Directors by the Board of Directors
Remuneration for Directors shall be determined by paying attention to the balance between fixed and variable remuneration, as well as between short-term and medium- to long-term remuneration, in order to provide sound incentives for improving business performance and increasing corporate value. Specifically, remuneration for Directors excluding Outside Directors consists of monthly remuneration (fixed portion), bonuses for Directors (performance-linked portion, short-term remuneration), and stock-based remuneration (medium- to long-term remuneration), while remuneration for Outside Directors consists of monthly remuneration only. Procedures for determining the remuneration of Directors are determined by the Board of Directors after consulting the Nomination and Remuneration Committee, of which the majority of members are Independent Outside Directors.
Sustainability Initiatives